I've gotta cheer up a friend who's had some bummer experiences lately so here's some easy comfort food. You can join her recipe exchange
here.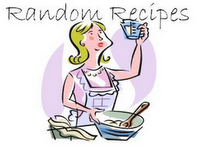 My old neighbor Cuca taught me to make this Mexican stew and there is just something about it...
POZOLE
1 pork roast
1 dried cayenne pepper
1 onion
4 beef bullion cubes.
1 large can of hominy
A bunch of chopped cilantro
about ½ head shredded cabbage
about 5 limes, cut in half which you use to squeeze into your soup
A bunch of chopped green onion

A bunch of sliced radishes
Brown a pork roast chopped into large chunks in a small amount of oil. Add enough water to cover it completely. Add one dry red cayenne pepper and one onion peeled and cut in two. Add about 2-4 beef bullion cubes. Boil, adding water as needed until the meat is cooked through and falls apart easily, 1-3 hours. Add hominy, drained and keep on stove till hominy has heated then turn off heat. Serve in bowls with the remaining ingredients on the table in individual bowls or on serving tray for people to add on top of the stew as desired. If you like it hot you can also add tabasco sauce to your stew.