And now I present Thing 1's latest favorite: "Strangled Eggs".
Now that the Things are eating at school, they have very specific requests for lunch, including the "strangled egg sandwich". Can't say as I blame them for trying to direct my lunch making. The first day of school I made them sandwiches with lunch meat, not cheese! Plus, I cut some oranges into quarters and stuck them in a baggie. They looked different on the inside, almost a red color. I wondered if I got blood oranges at the store without noticing. The kids came back home without eating them. I tried one. It was a grapefruit! I felt pretty dense. However, they were the size of an orange, and the skins were orange, not yellow. How was I to know? So, now that I have established myself as a flunkie lunchmaker, let me tell you another do not. Do not pack ethnic foods like empanadas or greek food wrapped in grape leaves, your kids will chew you out because their friends laughed at their food.
I can tell you a good thing to pack. Take a tortilla, spread it with mayo and some thin sliced ham and corn, roll it up and cut it in pinwheels. Send them in ziplock bags. The kids liked that one, and you can fill it with just about any other combination imaginable. Once my kids are in second grade, I have them pack their own lunch so they will stop complaining about my dumb food and I can start chewing them out about theirs. A baggie stuffed to the brim with chocolate chips does not a lunch make! This is why you check their lunch bag before they go.
Seriously, my biggest problem is competing against the school cafeteria. They feed them really yummy food, not the toxic stuff we were served as kids. A certain child of mine tries every year to eat school lunch when he shouldn't and racks up a bill. I can't afford to pay for school lunch every day, and I know that they won't eat half of it anyways, but I am trying to come up with food that can win the war against the lunch lady. Any suggestions? Please? What's your favorite bag lunch food? And while we're at it, on the go breakfast ideas would be great, too. If you comment or e-mail me any suggestions, I'll make a post for everyone!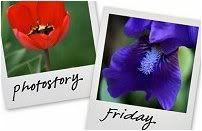 Hosted by Cecily and MamaGeek