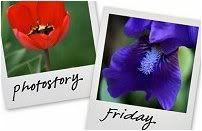 Hosted by Cecily and MamaGeek
So, this blog is turning into a Friday thing. But, I insist on letting real life intervene. It just seems so hectic lately, I barely have a moment to catch my breath. So when I decide to blog once everyone is asleep I end up checking on my buddies first because I'm severely behind on that. And then I don't write because I need to get to bed instead. Also, I think the point of laptops is that they're supposed to be portable, but when the top is making a break for it, and is only hanging on by a bundle of wire, it stops being portable. Also, it is a bit scary when keys keep breaking off and little screws shoot out at you. Soon I will have to have the whole keyboard memorized or I will be lost. It's just a bit annoying that sometimes you have to hit a key twice before it takes as well. Those are all my excuses for today.
The point of this post is really this: Occasionally, being a parent is not so rewarding. I mean, if you need a lot of positive feedback, it is not the best profession for you. If you want some peace and quiet it is not advisable. If you want some peace of mind, or you second guess yourself a lot, it may not be the ideal endeavor either. If you are easily grossed out, it is not going to be your cup of tea at all. If you like your laptop intact, you guessed it, not a direct path to that end either. Not only that, but often your children will be ungrateful, disrespectful, and impolite. But, I'm looking at the positive. At least
I
didn't get told I was "hairy, especially your butt" like another parent in my house got told this week. I've been told some equally frank things, however. And when you are a parent, your kids wear you out. Literally, and figuratively. And then, after almost eighteen years of agony, you walk out the door and see this:
(I didn't teach 'em to spell) And you smile. And it's all worth it. Despite the fact that you know they're probably just buttering you up for Christmas. Or possibly it wasn't your offspring at all, but some neighbor who felt sorry for you. Because maybe, just maybe you really are awesome and your child might know it even more than you do.
The End.