This is combining Photostory Friday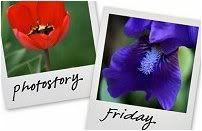 Hosted byCecily and MamaGeek

and SOS here . It's the last episode of the engagement story and it links back to the previous chapters. Someone wanted to see wedding pictures and what Chocolate Boy looks like now. He looks 20 years older.
Now, here's a few tidbits about what happened after I got home from Montreal.
We used to get together with all the relatives in the area for an extended Family Night back in those days. We would start out going all around the room having people give any announcement that they had. My immediate family knew I was engaged but none of my cousins did. Now, usually when someone got engaged, they would show up with the fiance but mine was still in Montreal. No one was going to suspect a thing. It was sort of like a surprise party in reverse. They had me do my announcement last and when I said I'd gone to Montreal over the break and got engaged, they were stunned! It was so funny, I wish I could have had someone filming it. My cousin -in-law Nancy nearly fell off her seat. So then there were a million questions and all, it was a lot of fun. A month later, my fiance joined me and I was trying to be a full time student and part time worker and get ready for the wedding and my poor baby was bored. He used to tease me out of sheer boredom at times. I remember he spent a whole day calling me "Hermana" till I finally flung my ring at him in frustration and said if I was his "sister" I couldn't marry him. He shut up. We got him into English classes to keep him busy. He entertained everyone with his physical humor since he didn't know any English. My mom said she'd miss him when we got married. Just him, not me :) He told me when we were leaving after the reception, my dad said to him, "good luck". Boy did he need it :) So far he's survived me.

My poor mom pretty much had to get the whole wedding ready all by herself. You would think miss crafty artist type that I was would be so into the preparations, but I didn't even care. She would get frustrated at my constant, "whatever you think is best" answer to all her questions. I just wanted to get married and didn't care much about anything else because I had too much going on. I'm not even sorry about that now. I mean, I'm sorry for what I did to my mom, but not that I missed out planning the perfect wedding. I'm sure my daughter won't drop it all in my lap either. She will have specific things in mind, like eloping, or something else, so I will just follow her orders. I would love to plan a wedding someday, but if I never ever do, I can live with that just fine. Anyhow, my mom made the dress and she did a great job.

The week before the wedding I came down with strep throat AND I got trenchmouth, so I was in bed till the day before. This furthered the who cares, lets just get married attitude. I would have gotten my hair done nice and all, but since I was sick, I just skipped it. I do kinda wish I hadn't skipped it, but we're still married, so who cares? I hardly even cringe at my pictures anymore.

The wedding day itself was perfect. There was a new blanket of snow on the ground but the sun was out and it wasn't too cold. My grandfather was a temple sealer and he performed the wedding. It was really beautiful, very spiritual and lots of family was there. We had fun at the luncheon, the family photo session, the reception, and the after reception celebration at the exciting BYU trailer homes, now plowed over and replaced with apartments. The next day, after we had already been welcomed by BYU housing, even though we were, ahem!, BUSY! We got to go on a honeymoon to Arizona, where his best man sent us to stay at his dad's hotels. We had a blast! That was so nice of them! We have fond memories of the wedding AND I managed to not flunk any classes that semester! In March we celebrate our 20th anniversary. Life hasn't always been easy, of course, but in general, it's been good! I hope the best is yet to come.