Burgh Baby is having a Christmas Crazy event December 20. You can link up and show the excesses of the holiday decorating and such. I'm not sure she had something like our house in mind when she planned this event.
My dear Enigma and her latest heartthrob pulled out all the Christmas boxes. Then they couldn't figure out how to put the tree together. So they just left the guts lying all over the living room. I really didn't have time to deal with it for a few days and wondered if disemboweled trees would be our newest holiday tradition. Several ornaments were already broken, and I smirked when I saw some "shatterproof" ones in the store. Just let my boys have a hand at those, I assure you they'll find a way to shatter them. Then I found some time to at least put all the tree puzzle pieces in their place, but not enough time to lovingly and artfully un-scrunch and pose the branches. Then the boys got ahold of the tree and did their own decorating.
If I were a burglar, I would definitely avoid my house. We have a lot of creatures ready to jump out of the tree and pounce on you.
Yes, those are toothpicks sprouting out of Sandman's chest. I can't explain why, but it makes him more menacing, don't you think?
Then there's Megatron, a real force to be reckoned with and he's the jumbo size.
This little Bionicle is ready to spin his weapon and slice you like a block of ham at a deli.
His buddies are going to back him up, too.
Want this thing flying around you like a mad hornet? I don't think so. And there are more of these guys ambushed all over in there.
Bionicles don't scare you, you say? How about molting snakes?
Or poisonous tree frogs?
Or menacing dragons?
Or teddy bears?! Well, even boys have a tender side.
It's Christmas on testosterone, people, and you've gotta love it, even if it seems out of place.
(Photos brought to you by the one and only Gigio)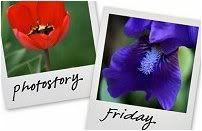 Hosted by Cecily and MamaGeek