This morning we had rain, which means it's not freezing anymore and hopefully this inversion will clear out, but it got the ice and snow all melty and my tires got stuck in it this morning. I had to dig myself out again. I really want my own personal snowplow. Since I hate winter, I try to ignore it. Since it has been hard to ignore, I decided to at least enjoy how beautiful it can be and so one day last month a snow storm cleared out while I was driving home and it was so beautiful, I got out and took some pictures.
Do you know what this picture represents? Hope. Snow is melting and dripping off the eaves onto the steps below.
Later that day as I drove kids home there was a circle with rainbow colors in the sky, right in front of a little cloud. It was so cool I ran to get the camera, but the second I snapped, it went away. You can almost see it in this close-up. Just a few tinges of pink edges.
Another day we woke up to everything covered in ice.
And hazy skies.
If I had a camera built on my forehead, I would have the coolest pictures of some great drives. So, for now, that's all!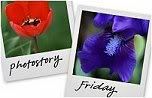 Hosted by Cecily and MamaGeek